So after my last battery began dying on me I decided to pull the trigger and get an (expensive) Optima battery.
According to the maker website the SKU compatible with my car (2013 Nissan Versa) is the D51R. Went to my local Autozone and that's what I asked for.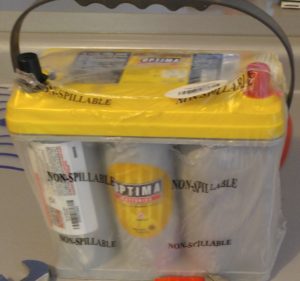 Everything seems premium about this battery's construction. My only gripe is the battery is smaller than a regular battery so either you have to order the spacer or get creative to secure it in place. This is what I'm talking about: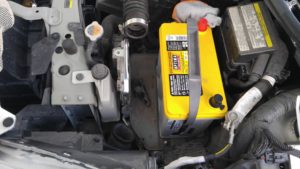 For now I just got a bit creative (forgot to take a picture of it), not satisfied but will have to do until either I get the spacer or make my own definitive solution. I used a curtain bracket, the factory screw fits on the bracket hole, I just had to bend it a bit to secure the battery in place.
Removing the old battery was easy. Placing the new one and hooking it up was also easy. Securing it with the materials I had on hand, not so much.
With the battery in place I went for a test drive. I don't know if its because of the smaller battery but the car feels lighter. The AC feels colder, the stereo sounds more powerful and cleaner, the cellphone charger keeps up better with my cellphone (I use it for dvr and obdii functions), the lights are brighter and the horn (aftermarket Wolo) is louder and doesn't sound distorted anymore.
Update 08/12/17
I came up with something a bit better, though still not satisfied.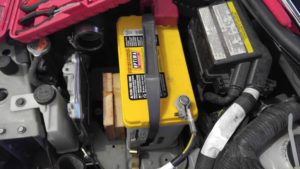 Wood is pretty good absorbing vibration.
On another note, battery gets pretty hot on this 100+ weather (38+ C). We'll see if it's true it can be used on the Baja.
---
The old LTH battery was a good battery, I think it only lasted two years because of the intense driving conditions experienced this very spring/summer. I use slightly more crap than the typical driver: OBDII dongle, cellphone charger and non stock head unit (haven't installed the amplifier yet) and bi xenon head lamps. Temperatures surpassing 100 F even at night (and off course I also have to crank up the AC). In addition to that roads in the town of Apodaca are not that friendly to say the least and local government makes things more difficult every day. Things can get a bit bumpy: