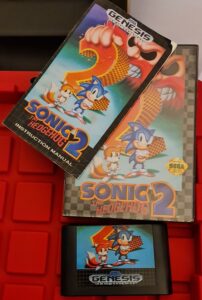 Some people say sequels are not as good as the original. This was one of the exceptions, as it exceeded the original. What can I say that hasn't been said in the past 30 years? Awesome graphics, soundtrack, controls, challenge, well, awesome everything.
One more time our hero Sonic the Hedgehog is set on an adventure to defeat his nemesis Dr Robotnik and help his friends. But this time he is not alone, sidekick Miles "Tails" Prower is here to help.
Or… you could just play as Sonic or Tails alone.
Game has plenty of variety, you still have to finish it in one sitting so make sure to obtain continues. Special stages are located at checkpoints instead of at the end of each act (they kinda remind me of Stunn Runner), collect the required rings (or more) before the end of each segment and if you survive you get a chaos emerald. Not only you'll get to see the "good" ending if you collect all 7 of them (yup more than its predecessor) but also Sonic will be able to transform in "Super Sonic" (obviously inspired from Dragon Ball Z).
Ok, that's it for now. Thanks to everyone involved in creating such a brilliant game, game that kept us occupied for countless hours and passed the test of time. Here's to another 30 years of Sonic and Tails.