As promised, pictures of before and after. One issue (or advantage) with these cars is headlights are made of glass. Issue because they're easier to break (accident or vandalism), advantage because they're are resistant to deformation and yellowing (I'm looking at you Nissan).
Before:
During:
Quite easy to remove, just remove three T25 screws and unclip the grill. Unplug the harness. Be careful with the wipers.
After: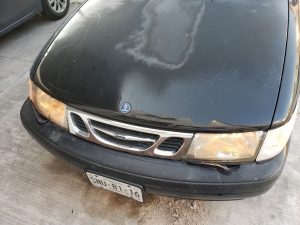 Now I have proper lighting and no more dealing with tape. The new housing even came with bulbs and the electrical plug. Awesome job from the Wisconsin junkyard!
Next would be to check why the left turn signal socket is not making proper contact.