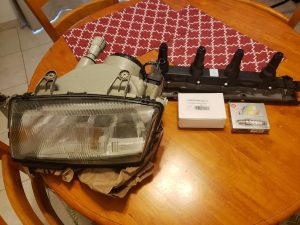 Got a few presents for the love of my life. So far I replaced the DIC and the plugs. The old DIC had melted tips and who knows if it was ever replaced before. I tried a chinese knockoff before with horrendous results, so this time I pulled the trigger and got the Saab original part from esaabparts.
As per sparkplugs I got what Saab offered back then as an option for "hard driving", the NGK PFR7H-10. So far this morning going to work it ran great 🙂 Thanks to the Saabnet member who documented the sparkplugs on this post
Couple weeks ago I changed the oil and filter using Royal Purple 5w-30 and a K&N filter. I'm pending to swap the air filter.
I intend to replace the headlight tonight, I'll make sure to post before / after pictures.